2018 Schedule of Events for the Mesilla Valley: Thursday, May 3, 2018
"Make every effort to keep the unity of the Spirit through the bond of peace."
Ephesians 4:3
1. Sunrise Service
6:00 a.m. – 6:45 a.m.
Monte Vista Parking Lot: Dripping Springs Road, Las Cruces, NM (1.9 miles east of Farm & Ranch Museum).
Join us to start this glorious Day of Worship with Blowing of the Shofar, Prayer, Music and Praise to our Lord.
 2. National Day of Prayer Proclamation at Doña Ana County Building
10:00 a.m.
Near front entrance of building, 845 N. Motel Blvd.
Proclamation by Dona Ana County Commission
Prayers for Dona Ana County
 3. National Day of Prayer Proclamation at City Hall
12:00 noon – 1:00 p.m.
Front patio of the Las Cruces City Hall, 700 N. Main St., 88001
Proclamation by the City of Las Cruces, Mayor Ken Miyagishima or Designee
Offering Prayers for the City and Nation in Worship and Song
(Light refreshments available)
 4. Bible Read-A-Thon
3:00 p.m., Thursday to 12:00 Noon, Friday
Southwest Corner of Main Street and Picacho – Front of Dario Gomez, Bail Bondsman
Continuous reading, aloud, God's Word in the New Testament.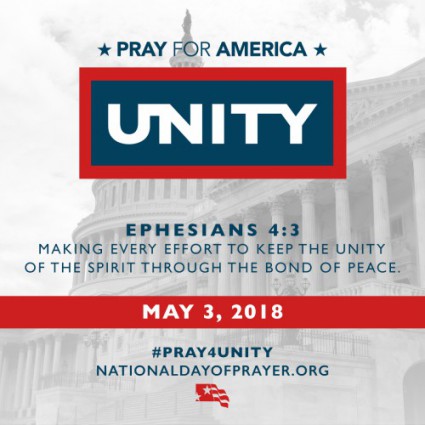 Pray for America — UNITY
"Making every effort to keep the unity of the Spirit through the bond of peace"
(Ephesians 4:3).
---
"My people are destroyed for lack of knowledge." — Hosea 4:6